When: Wed November 13, 2002 06:30 PM to 07:30 PM
Speaker: Jeremy Hogan, James McDermott, Dave Lawrence, Jonathan Opp
Location: O'Reilly and Associates
RedHat Road Tour is a special event at a different time, but at the usual place.
NBLUG is lucky enough to be the only Northern California stop on the RedHat Road Tour.
Four men. Two weeks. Five thousand miles. And one solitary purpose: To discover the state of Linux in America.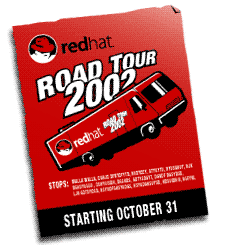 From 6:30 to 7:30 there will be general socializing and refreshments; bring $5-$10 for food, though RedHat may help pay for food. Probably order pizza or something.
Then at 7:30 there will be a presentation followed by Q&A.
There will be swag and O'Reilly will be selling books in the lobby.